Is the content your council produces Deaf accessible?
Surrey County Council is responsible for a number of local public services in Surrey, England. After meeting with their Deaf network, the council discovered that providing subtitled only digital content for their Deaf employees was not sufficient to make the information fully accessible. After ongoing consultation, they committed to improving accessibility for their Deaf community and advancing their equality, diversity and inclusivity (EDI) agenda by providing ongoing British Sign Language (BSL) translated video content.
As well as fulfilling the Equality Act 2010, Surrey County Council were keen to demonstrate an inclusive workplace and effectively address Deaf staff members concerns.
Working with Involve Interpreter
Involve Interpreter provide specialist support for Deaf BSL users thorough a variety of video communication services. Surrey County Council approached Involve Interpreter to produce BSL translation and subtitles for a range of digital content including internal stakeholder communications on a continuing basis.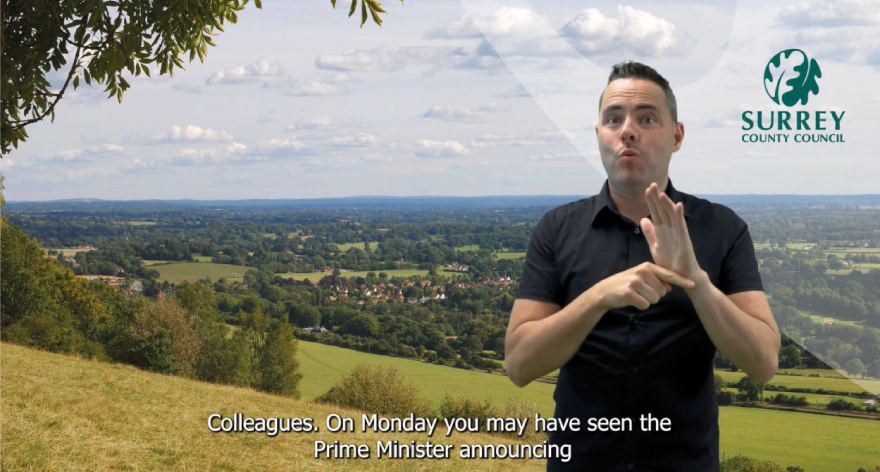 "We would 100% recommend this service to other councils!"
When asked about their experience with Involve Interpreter, Surrey County Council said:
"The experience with Involve Interpreter so far has been nothing but great. Offering BSL is influencing the culture of our organisation and making Deaf staff feel more included. The quality of the BSL and subtitling is second to none, and the turnaround time is always super quick which we are forever grateful for as we tend to need our videos to be released quickly to staff. We would 100% recommend this service to other councils! Involve Interpreter have a friendly team and are a great company to work with."
Collaborating with Involve Interpreter has improved Surrey County Council's working relationship with their Deaf staff. Furthermore, given the positive impact BSL translations have had, the council have started using in-person BSL interpreters for events.