EVENTS 2021
We had the pleasure of supporting a lot of great events in 2021 – lectures about mental health services by The Independent Mental Health Network, Brighter Sound's 'Let's Reconnect' Festival and Send a Cow's talk on their Disability Inclusive Livelihoods project in Northern Uganda, just to name a few. It's great to see a plethora of organisations becoming increasingly inclusive and we're proud to support them on this journey. One of the biggest events we had the pleasure of supporting in 2021 was Glastonbury Festival. A special shoutout to Linda Bruce who did the recording for this, assisted by Helen Andrews. This year Glastonbury held their very first at home only festival 'Live at Worthy Farm.' Lets hope that in 2022 things will be more normal and livestreamed festivals, with no audience, will stay a thing of the past. This makes it exciting for us that we can say we were part of a one-off, Livestreamed only, Glastonbury.
We're so proud to have been able to partner up with Driift Live to make this unique experience accessible for the Deaf community. The last two years have been challenging for the whole world, with the cancellation of festivals and life as we knew it. The saying 'we're all in this together' has been said a lot, so this year more than ever it was extremely important to start making these events inclusive for everyone. All proceeds from this event went towards Glastonbury 2022, Water Aid and Oxfam.
DEAF AWARENESS TRAINING
This spring we started offering BSL and Deaf awareness training as a new service to our customers. Providing Deaf awareness training is so important for businesses, particularly those who have Deaf customers or staff. We offered this training to the staff at Involve, ran by one of our brilliant interpreters, Andrew Stanley. Andrew is Deaf himself and we believe it's important for this training to be done by a native BSL user. These sessions covered how to work with Deaf people, preconceptions and stereotypes of Deaf people and curated content that is specific to our business, meaning that the staff at Involve now feel comfortable meeting and interacting with Deaf people. When initially offered to the Involve team, the training received a huge response with 23 staff members registering their interest in the first 10 minutes! Everyone who participated loved the training and have already found it beneficial in their everyday lives.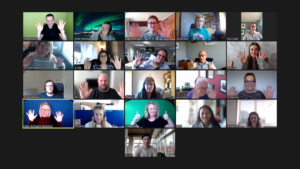 'I've utilised my BSL classes with Andrew already. They've had a profound impact on both me and the Deaf postman who delivers to my home.' – Ben Cattell, sales.
'A massive thanks to all of the BSL team for a really inter-esting course – you were so patient with us newbies!' – Pauline from HR
ENGLAND CRICKET ASSOCIATION FOR THE DEAF
June was a very exciting month for Involve Interpreter, as we signed a brand new sponsorship deal with England Cricket Association for the Deaf! ECAD was launched in 2002 and supports players from a wide range of backgrounds. They work closely with the England and Wales Cricket Board to promote Deaf Cricket across the UK and has produced players for England's Deaf national teams. As part of the sponsorship deal, we're offering 15 – 20 hours of online BSL interpretation at ECAD matches and coaching sessions.
Darren Talbot, Chief Executive Officer of England Cricket Association for the Deaf, said: "Involve's sponsorship will help support the wide range of events we hold throughout the year, including our regional T20 festival, which brings together the best Deaf cricketers from across the country, and is an important pathway in the progression of these players."
It's been exciting for us to watch ECAD play their most recent games in their brand new Involve Interpreter kits, particularly during their Help for Heroes day in July. This was a hugely enjoyable fundraiser and we couldn't be prouder to support such a great team. Mick Roach, from Involve Interpreter said: "Here at Involve, we are really proud to become ECAD's official shirt sponsor for 2021 as well as providing key BSL interpreting support to the players and coaching staff throughout this year. In addition to this support, we truly believe that there is real synergy between both organisations that will support our partnership working over years to come."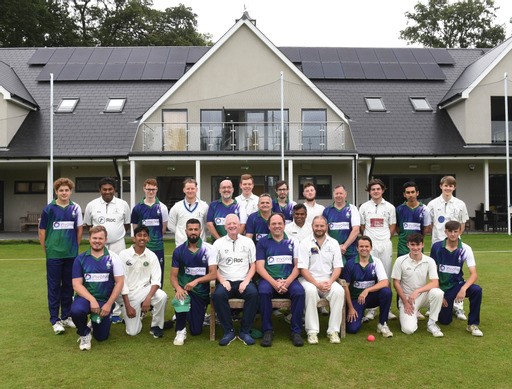 VIDEO RECORDING & EDITING STUDIO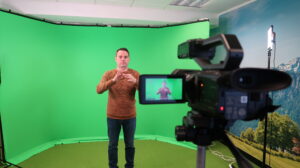 In 2021, we were able to set up our bespoke video recording and editing studio. This was a huge achievement for us, as it's allowed us to provide high-quality BSL translations for organisations to ensure their content is accessible for Deaf people. The service can include green screen, graphics, captioning and video-in-video service. We've received some fantastic feedback on this service since setting up our studio!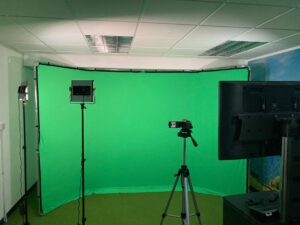 Alongside our brand new studio, we've also added Eleanor Harrison to our team as our video editor. Eleanor is extremely talented and has produced some brilliant content for Involve Interpreter since starting in September! When asked what her favourite part of working at Involve is, Eleanor replied: "Everything. I love that I get to work with an amazing and friendly team every day, as well as edit videos for new and existing customers and for their social media pages."
NORDOFF ROBBINS CHRISTMAS CONCERT
In 2021 we had the pleasure of providing BSL interpretation for The Nordoff Robbins Christmas concert 'The Stars Come Out To Sing At Christmas.' This was a great experience for the whole team. Our video editor, Eleanor said: "The Nordoff Robbins Christmas concert was my favourite project I've worked on yet. It was fantastic to be involved in."
This special streamed-online concert saw us providing BSL interpretation for stars such as Shakira, Nile Rogers and Chic. This was the first year that this event was made accessible for the Deaf community and we're glad that we were able to make this happen.
To top it off, the Nordoff Robbins Christmas Concert raised over £200,000! Funds from the event will enable Nordoff Robbins' music therapists to continue to use the power of music to enrich the lives of children and adults in the UK affected by life-limiting physical and mental illness, disabilities or feelings of isolation. In 2020, despite the pandemic, Nordoff Robbins' music therapists helped the lives of 5,782 individuals throughout the year and they aim to increase this number in 2022.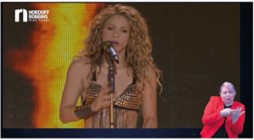 THANK YOU!
Thank you for a fantastic 2021! Our team doubled in size and we were able to work on some fantastic projects. Happy New Year from the entire Involve Interpreter team and here's hoping 2022 is an even better one.