Bett 2022
In March, Bett 2022 arrived at ExCel London for three days of inspiring content, networking and product discovery from their solution providers. We had the pleasure of working alongside Microsoft to make the Bett 2022 conference more accessible for the Deaf community. All of the events in the Microsoft Learn Theatre had a BSL interpreter provided.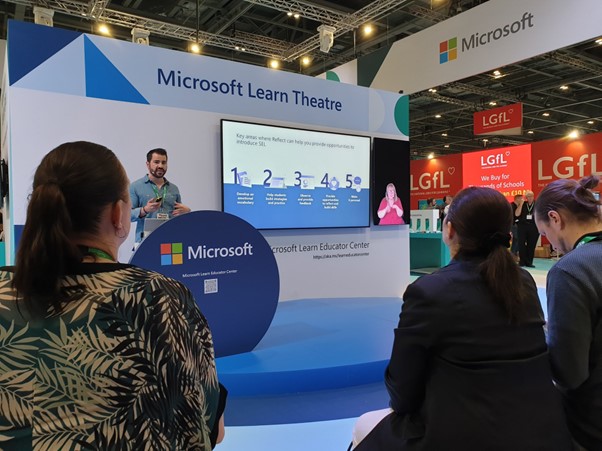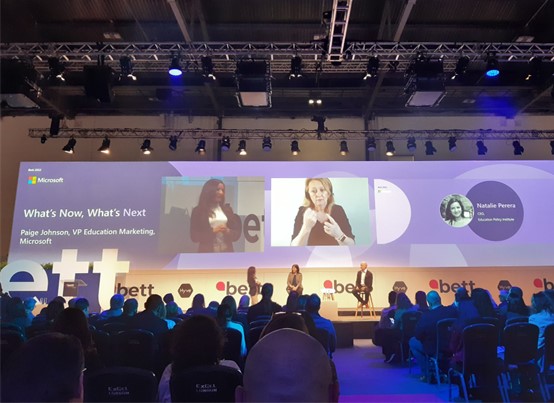 The BSL Act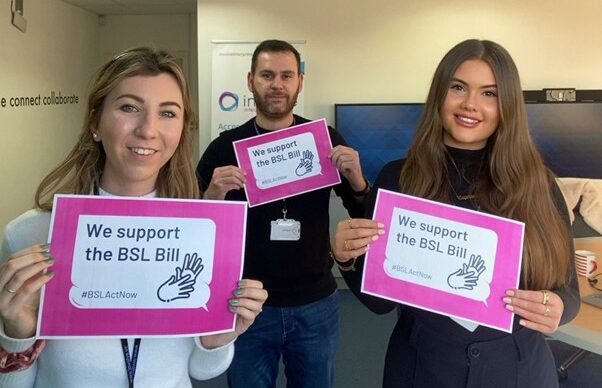 On 28th April 2022, the BSL Bill was given Royal Assent and became the BSL Act 2022. This act ensures that BSL is recognised as an official language of England, Wales and Scotland in its own right. This helps to ensure BSL users are fully included in society and recognises their language, history and culture.
The Act will create a greater recognition and understanding of BSL. Guidance will be provided to government departments and public bodies on how to meet the needs of BSL as their first or preferred language.
To find out more: The BSL Act 2022 – Involve Interpreter
LGA 2022
From 28 – 30 June, the Involve team had the pleasure of attending the LGA Conference 2022 in Harrogate. LGA has been labelled 'the biggest event in the local government calendar.'
The team was even given the opportunity to chat to Rishi Sunak about Involve Interpreter and two of our Interpreter team, Andrew and Jacqueline, provided free bitesize Deaf Awareness sessions, teaching visitors some quick tips and hints to support their communication skills and confidence when speaking to Deaf people. These sessions were extremely popular and kept our stand busy for the three days, with people complimenting the sessions on how insightful they were.
We were delighted to have Councillor Lee Mason join us for a Deaf Awareness session. Speaking about his experience with BSL, Lee said "I enjoyed the opportunity to chat in sign language again and from personal experience I know the difficulty my brother, who was profoundly deaf, often had in accessing services and accessing translators. People often wrongly think with cochlear implants there is no longer a need but there is still much need for BSL support."
To find out more: LGA Conference 2022 – Involve Interpreter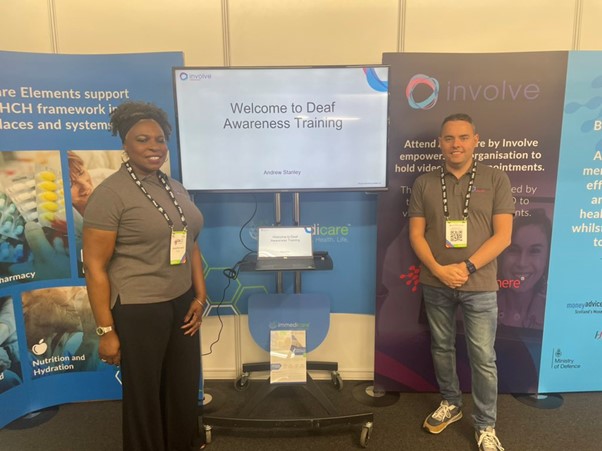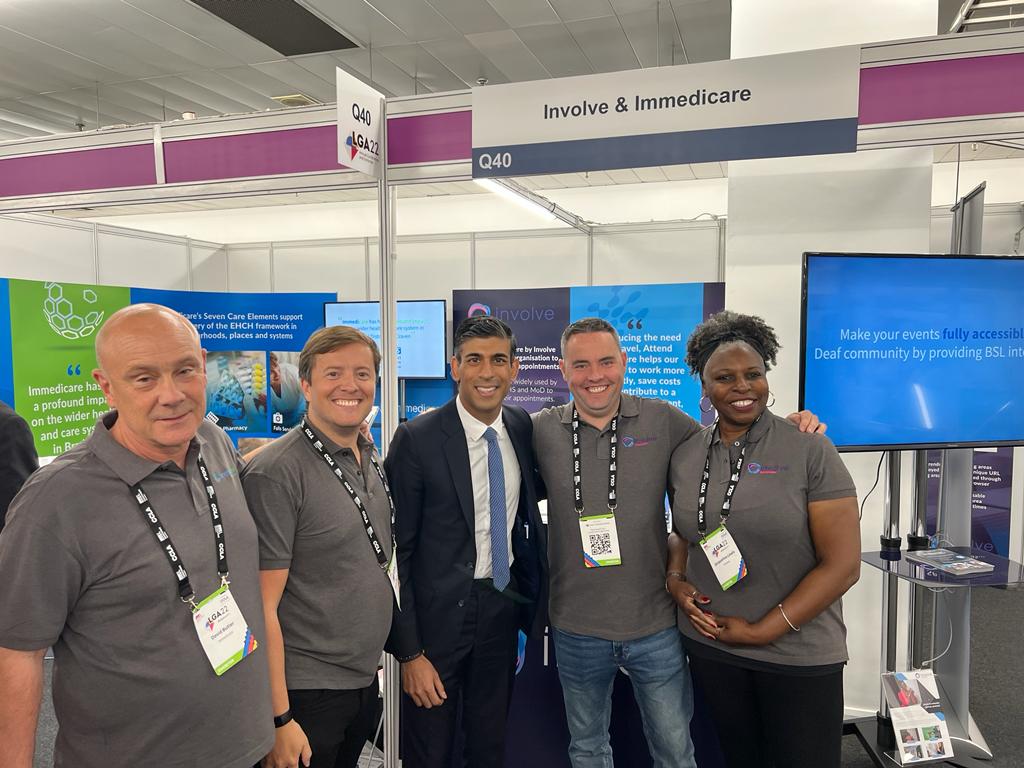 EFSLI
On September 3rd our interpreting team travelled to Manchester for EFSLI 2022. This year's conference had the tagline '#Awkward' because the aim was to talk about all of the taboo topics in the interpreting world. We asked Kirstie about her experience at EFSLI, to which she replied: "It was full of insightful and inspirational people who highlighted areas in the interpreting profession for me to consider and more specifically gave me insight to consider my choices and strategies that I can use going forward."
Linda said, "It was lovely for our team to attend an event together. We work remotely so seeing each other was a great morale boost." In between the captivating talks and opportunities to network, the team also visited Manchester Deaf Club to play bingo and visit the Deaf History Museum. The following night they took part in Ceilidh Scottish Dancing. It was a fantastic time for everyone to let their hair down.
To find out more: EFLSI 2022 – Involve Interpreter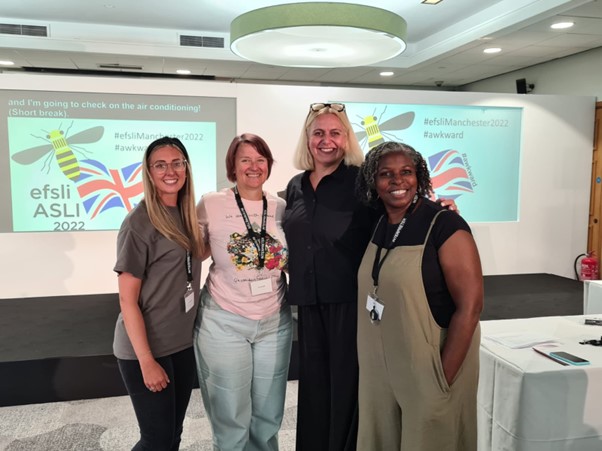 Surrey County Council Improves Accessibility
Surrey County Council is responsible for a number of local public services in Surrey. After meeting with their Deaf network, the council discovered that providing subtitled only digital content for their Deaf employees was not sufficient to make the information fully accessible. After ongoing consultation, they committed to improving accessibility for their Deaf by providing ongoing British Sign Language translated video content with Involve Interpreter.
When asked about their experience with Involve Interpreter, Surrey County Council said:
"The experience with Involve Interpreter so far has been nothing but great. Offering BSL is influencing the culture of our organisation and making Deaf staff feel more included. The quality of the BSL and subtitling is second to none. We would 100% recommend this service to other councils! Involve Interpreter have a friendly team and are a great company to work with."
To find out more: Surrey County Council Improves Accessibility for Their Deaf Community with Involve Interpreter – Involve Interpreter
Thank you all for a fantastic 2022! The Involve Interpreter team has continued to grow and we were able to work on some fantastic projects. Happy New Year from the entire Involve Interpreter team and here's hoping 2023 is an even better one.